NCLEX Info

>>
Review Topics

>>
Songs to Help You Study for the NCLEX
Hours upon hours of studying can often become mind-numbingly monotonous, especially when the words start to run together. In addition, staying focused while studying can be extremely difficult when you're distracted by the whispered conversations of your library neighbors.
While studying for an important test, like the NCLEX, every little extra boost counts. For some, music has been found to help people better focus on the task at hand. This improved focus is partly due to the fact that headphones or earbuds help block out distractions, and partly due to the fact that music might improve the quality and effectiveness of your study session. Some research has found that people who worked while listening to music were more productive and creative, and quicker in finishing their tasks than those who didn't.
Additionally, listening to music while studying or working seems to encourage the release of dopamine, which can help alleviate anxiety or stress.
Whether you turn to music to block out external noises, push through tiredness or boredom, or relieve tension and nerves, the type of music you listen to can either benefit or detract your ability to retain and recall information.
Listening to the same music while studying and directly before the exam can help memory recall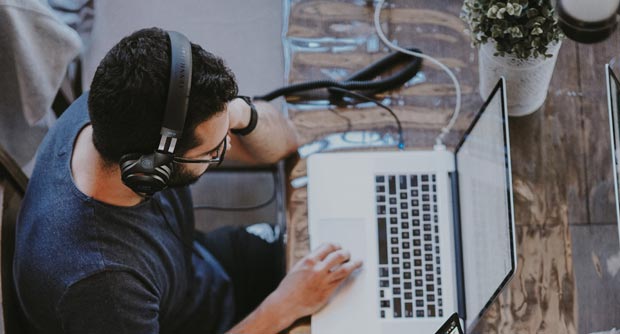 Classical music has been the subject of many studies regarding its effect on the brain, especially in regards to learning. While most of the beneficial effects seem to wane after adolescence, classical music is still a good choice as background music to a study session. Music with lyrics can prove to be too distracting to be effective for some people.
Here's a short playlist of classical songs that you can easily build on:
"Brandenburg Concerto N3 S1048 / G Major" by Bach
"Suite #1 In G Major: Prelude" by Bach
"Pieces-Intermezzo- A Major (Andante Teneramente)" by Brahms
"Concerto N21/2nd Movt, Andante" by Mozart
"Herbriden – Overture" By Mendelssohn
If Mozart, Bach, and Beethoven are not really your cup of tea, ambient music is another great option to have to fill in the silence, or serve as "pretty white noise." Also lyric-free, even-paced, and soothing without inducing sleep, ambient songs provide a steady rhythm to your studies without distracting you with lyrics.
With ambient music, you can choose to listen by the artist as opposed to by song title, as the songs flow from one into the other. Here are some artists that are worth a try:
Sleep Research Facility
Mathias Grassow
Klaus Wiese
Brian Eno
Aglaia
Instrumentals of your favorite songs are also excellent options for your study playlist. You are able to listen to music from any genre—pop, rock, hip hop—but without the lyrics interfering with your concentration. Studies have shown that you should enjoy the music you're listening to, in order for music to show beneficial effects.
And this one's just for fun—here's a playlist with songs that reference common ailments and medical conditions, especially ones that frequently show up in emergency rooms:
"Accidents Will Happen" by Elvis Costello
"Bad Case of Loving You (Doctor, Doctor)" by Robert Palmer
"Blunt Force Trauma" by Damageplan
"Everybody Hurts" by REM
"James Dean"- The Eagles
"Kickstart My Heart" by Motley Crue
"Little Gunshots" by Trembling Blue Stars
"The Bends" by Radiohead
If you're the kind of person who prefers to study in total silence, you can still reap the benefits of music. Listening to music before studyingreduces cortisol production and improves mood—which can lead to better memory and attention during the actual study period.
Music can help you unwind, focus and motivate, improving your overall study results, regardless of whether you listen to music before, during or after studying.
Marcela De Vivo is a music enthusiast, writer, and business owner who can usually always be found listening to music at any time of the day, whether she's working, practicing Flow yoga, or running, as it really helps to improve her performance in whatever she is doing. Follow her on Pinterest today!